by shari gorman
"wherever aisles aren't wide enough, wherever curb cuts are not found,
whenever evil parks illegally in a handicapped spot, i'll be there.
my name... is superquad."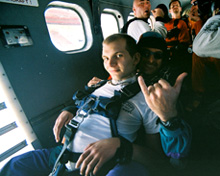 this is a quote from justin cochran's social media site. he was an extraordinary person who persevered through unbelievable circumstances. justin was backpacking around the world by himself, skydiving, and working towards his pilots license when he suffered a crushing blow. doing a back handspring for his cousins at a family reunion, he miscalculated and landed directly on his head, suffering a c1-c2 fracture that left him paralyzed from the neck down and ventilator dependent. with no insurance and a bleak prognosis, most would have given up on life. but you can't keep a courageous, free spirit down for long. within months of being released from shepherd center in atlanta (a rehabilitation center for catastrophic spinal cord injuries), justin was enrolled in college and fighting for the rights of all people with disabilities. he gave testimony before house and senate committees at the state capitol in atlanta in an effort to get people with disabilities out of nursing homes and living independently in the community. he served on the distribution and public policy committee of the brain and spinal cord injury trust fund, and he frequently visited newly injured patients at shepherd center to give them hope and inspiration. he was involved in partners in policymaking, an advocacy group for individuals with developmental disabilities. he was a role model and a leader in the southeast community, fighting for the rights of individuals with disabilities of all kinds.


justin's story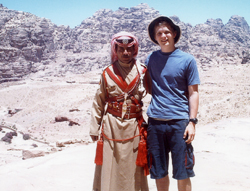 after graduating high school, justin decided that he was ready for some adventure. with a little money saved up from various odd jobs (several odd jobs), he took off to the southern hemisphere where he spent several months traveling through australia, malaysia, cambodia, and thailand. he carried everything on his back and slept under the stars when at all possible. he discovered that backpacking was the best way to see the world on a budget while meeting new and interesting acquaintances. so when justin returned to the u.s., he took off to california , making sure to see as much of his own country as possible along the way. a few months there (again working odd jobs), and he was once again on a plane, but this time traveling to europe . he spent most of the next six months in turkey, syria, israel, and northern africa, where he even afforded to get his professional scuba diving license in the red sea off the coast of egypt.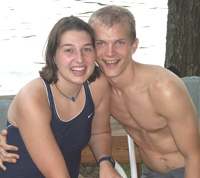 in the midst of all this traveling, justin managed to find time to earn his uspa skydiving license and made more than 50 jumps at various jump sites. in 2004, he completed the necessary flying and testing to acquire his private pilot's license. he and his girlfriend claire were planning a temporary move to florida in january, where he was enrolled in school to get his commercial pilot's license.
over the 2004 thanksgiving holiday weekend, justin suffered a tragic accident. justin and some family members were playing a round of golf when justin attempted to do a standing back hand-spring, misjudged his landing and fell directly on his head, breaking his neck at the c-1 and c-2 vertebrae. he was immediately paralyzed from the neck down, unable to move or breathe. since he could not breathe on his own, family members provided mouth-to-mouth respiration while waiting on the ambulance to arrive.

justin was air lifted to vanderbilt hospital in nashville, tn where he remained for 12 days in the trauma intensive care unit (icu) on total life support. while at vanderbilt hospital, justin had a halo device put on his head to hold his bones in alignment so that the breaks could begin healing. he also had a tracheotomy and the respirator moved to his throat. the doctors said he is a living miracle in that most who suffer the severity level of his injury do not survive.
justin was quickly accepted and moved into the shepherd center, one of the nation's leading rehabilitation hospitals specializing in spinal cord injuries, in atlanta where he remained until early march 2005. justin and his family are so grateful for the support he received at shepherd. they not only do everything in their power to encourage healing, but they help the patients and their families learn how to live again.
after his injury, justin attended college and served on the boards of several committees and organizations involved with disability rights and advocacy. he continuously worked to ensure that he and other individuals with disabilities were as independent as possible. although his paralysis condition, because of ventilator dependency, required constant monitoring, it was unable to extinguish his passion for life. he continued to jump out of airplanes, hang glide, and in general seek out, experience, and revel in all life has to offer. he continued to chase adventure as much as he possible, and he tried to help others with disabilities chase their dreams as well. justin had his battles with paralysis, but making every moment count was his top priority. there are no limits!